Organization
Organization
Director of the center
Faculties
Research Division of Crystal Bond Engineering 
ARIMOTO, Keisuke
Associate Professor

HARA, Kosuke O.


Assistant Professor
Information|Research
Information|Research
MARUYAMA, Yuki
Assistant Professor
NAGAO, Masanori
Associate Professor
Information|Research
Information|Research
 
TANAKA, Isao
Professor 
 WATAUCHI, Satoshi
Professor
Information|Research
Information|Research 
Research Division of Crystal Structure Engineering
Joint Member from Center for Instrumental Analysis
Administrators
Research Division
Crystal Bond Engineering
This division aims at discovery of novel functions by local configuration control of each atom in a crystal, and therefore, importance is given to the development of technology to control the arrangement of atoms constituting a crystal and searching for novel functions. In substances composed of multicomponent crystals like compound crystals or mixed crystals, not only are the characteristic-properties-imparting macroscopic parameters like composition and crystal structure important but the local arrangement of atoms also plays an important role in determining the functions. Because of this, it is possible to develop materials having novel functions, by controlling the local arrangement of atoms. The Research Division of Crystal Bond Engineering not only performs basic research related to local arrangements of atoms but is also working toward having an impact on applied research under progress.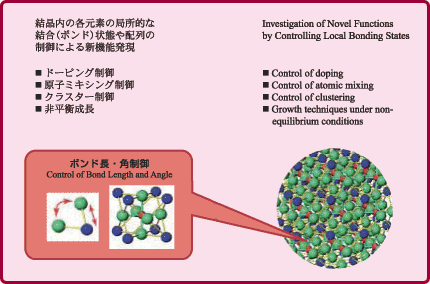 Crystal Structure Engineering
The objective is to invent a novel functional material by controlling the crystal structure, composition, and reactions occurring on a macroscopic scale in the broad sense, from the atomic arrangement (crystal structure), which is greater by a degree of magnitude than local bonds (chemical bond), to the macroscopic scale (texture). In this way, inventing a novel functional material is made possible by controlling the crystal structure and composition from the level of molecules and atoms, and research on developing groundbreaking materials will be going on actively in the Research Division of Crystal Structure Engineering.