Mr. Tomohiro Takabayashi wins the Annual Meeting of the The Ceramic Society of Japan, 2019 Excellent Poster Presentation Award.
Mr. Tomohiro Takabayashi won the Excellence Award in a poster session at the Annual Meeting of The Ceramic Society of Japan, 2019 held on March 24 -26th, 2019 at Shinjuku Campus in Kogakuin University.
His presentation title is 'Preparation of Mesoporous Silica from Waste Glass and Its Adsorption of Rare-earth Metal Cation'. He prepared Mesoporous silica including Group 2 elements from the silica solution extracted from the waste glass under the base circumstance. The mesoporous silica was examined for its adsorption property of the rare earth metal cations.
 He said "I am very honored that I was able to win such an award. I appreciate Prof. Takei and the members of the group."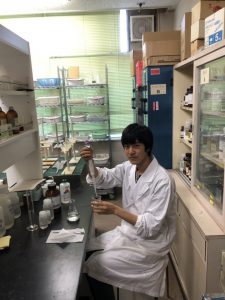 Mr. Takabayashi in his Lab.